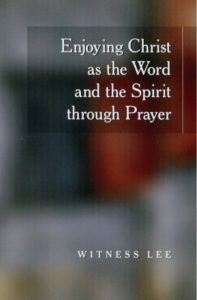 This winter break Christian Students on Campus will be reading through Enjoying Christ as the Word and the Spirit through Prayer  by Witness Lee.
There is perhaps no truth about God more striking than the fact that He is enjoyable. We live by what we enjoy, by what makes us happy. The greatest breakthrough in our Christian life comes when we discover how to consistently and definitely enjoy God. This changes everything! Christ came to earth not just to die for our sins, but to become everything to us for our enjoyment. The Gospel of John, as a record of this, begins with Christ as the Word (1:14) and ends with Christ breathing forth the Spirit (20:22). These anchor points of salvation history turn out to be the practical handles with which we can learn to enjoy God. Right in the middle of his Gospel, John combines these when he records Jesus saying, "The words which I speak unto you are spirit and are life" (6:63). This book will show you how to pray over the word of God to experience the Spirit. If you are struggling with your prayer life or reading the Bible seems boring, then this is the book for you!
Here is the reading schedule:
Each day's reading starts with the subheading listed and goes up to the subheading of the next day.
How to Get the Most out of this Reading Schedule:
Pray
Begin each reading day by offering a short prayer to the Lord.
Read your daily portion
Now that your spirit has been engaged, proceed to read your daily portion, taking note of the words or phrases that you feel the Lord is using to speak to you, and acting according to those words by conversing with the Lord, by making supplications to Him, or by confessing to Him. Do not just rush through your daily reading for the sake of finishing the schedule—that is not our ultimate goal. What we want is for all of us to enter into a normal daily life of enjoying God.
Pray-read
Continue by reading the verse for that day and praying over it in order to receive into your spirit the nourishing element of the Word.
Have Companions
As you endeavor to keep this reading schedule, you will discover that it is difficult to do it by yourself. We encourage you to find companions with whom you can read through this book—find at least one! If your companions are not in town, use e-mail, Skype, phone calls, or text to pray with one another and to encourage one another to maintain the schedule.