I have come down to deliver them out of the hand of the Egyptians and to bring them up out of that land to a good and spacious land, to a land flowing with milk and honey. (Exodus 3:8)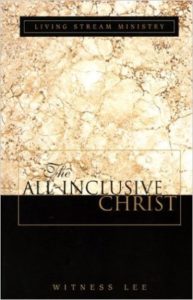 This summer break Christian Students on Campus will be reading through The All-inclusive Christ  by Witness Lee.
The All-inclusive Christ is a typological exposition of the geographical features (ch. 1-8) and the historical conquest (ch. 9-16) of the land of Canaan.
Let's unpack what this means.
The Old Testament is a book full of types—actual people, places, and things that prefigure Christ, the church, or New Testament spiritual realities. The New Testament authors made abundant use of the types in the Old Testament, and this approach to Scripture flourished in the early church through the allegorical method. One of the clearest examples of this is when Paul calls the historical Adam, "a type of Him who was to come" (Rom 5:14). Other notable types of Christ include, the Passover lamb, the manna from heaven, and the cleft rock flowing out water. These examples are uncontested and very clear to most readers.
The greatest type of Christ in the Old Testament is the land of Canaan. The good land was the focus of all the action in the Old Testament. It was central to God's purpose. Just like God promised to bring Abraham into this land, God has promised to bring us fully into Christ. Exodus 3:8 shows that the good land is the goal of the Exodus. Our Christian life is not just about salvation from something (sin/the world), but more importantly salvation into something (Christ). Many Christians have come out of Egypt, but haven't yet fully come into Christ. God wants to bring us fully into Christ.
Just like the good land provided for all the needs of Israel, God wants to bring us into a Christ who can meet all our needs. Christ is not simply a lamb; He is a land—an all-encompassing realm with an all-inclusive supply. The problem is that although Christ is in us, we are not that much in Him. How big is Christ to us? Have we sensed His spaciousness?
Our knowledge and experience of Christ should be constantly expanding. Once the children of Israel entered the good land, they had to fully possess it. All of us will probably admit that we haven't gained Christ sufficiently—maybe only a fraction of what God has revealed to us in the Bible.
If we want to gain more of Christ our land, God tells us to do two things:
Lift up your eyes, and look from the place where you are… for all the land that you see I will give to you. (Gen 13:14-15)
Rise up; walk through the land according to its length and its breadth, for I will give it to you. (Gen 13:17)
We need to lift up our eyes to see Christ and we need to lift up our feet to walk in Christ. The Christ that we see is the Christ that we experience, and the Christ that we experience is the Christ that we gain.
So let's lift up our eyes this summer to see more of the all-inclusive Christ. Let's look beyond our present horizon. Let's explore the land and expand our borders. Let's walk around in Christ in full discovery mode. And let's fight for each other this summer to possess as much Christ as possible!
As therefore you have received the Christ, Jesus the Lord, walk in Him. (Col 2:6)
Kyle has been serving on staff at CSOC since 2011. He is the editor for the CSOC blog. He also blogs at conversantfaith.com. He was born in Irving, Texas and graduated from UT with a B.S. in architectural engineering.
Latest posts by Kyle Barton (see all)